Welcome to Dental Care in Motion
Experience top quality dental care from our friendly and experienced dental hygienists that provide mobile appointments at your home, office, or care facility.
Family dental care that comes to you.
We are open and accepting clients during COVID-19. We have placed all standard COVID-19 precautions into place to ensure the highest standards of practice. Please feel free to contact us to discuss any concerns you may have and we will answer your questions.
Book your appointment now
Inquire. Ask a Question. Request a Booking.
We come to you home, office, care facility or even church or community centre. Best dental care anywhere. And we mean anywhere. If our fold-up mobile dental office can fit we can provide care to you. We have provided appointments in kids bedrooms, family kitchens, and dining rooms. We have done church halls, care facilities, even workplaces. 
Our new mobile dental care van is being prepared so we can serve you in a comfortable sanitized mobile dental clinic on wheels. The van is heated in winter and air-cooled in the summer. We pull up to your location and we have a full outfitted treatment facility ready for you and your family. Just come aboard and we will start your dental treatment curbside. A mockup of our van is to the left. 
Click here to learn more
We offer the following mobile dental services:
Comprehensive dental examination
Oral cancer screening
Periodontal disease assessment / gum assessments
Handscaling
Dental polishing
Dental fluoride treatment
Preventative sealants
Oral hygiene instructions
Tooth whitening.
Desensitizing
Dental tooth diamonds
Referrals
Smoke cessation
Nutrition counselling
And more…
Read these posts to learn more about our services.
Have a question about mobile dental care?
We are here to answer your questions. Contact us by phone or email.
Frequently Asked Questions
Answers to questions about our mobile dental care services.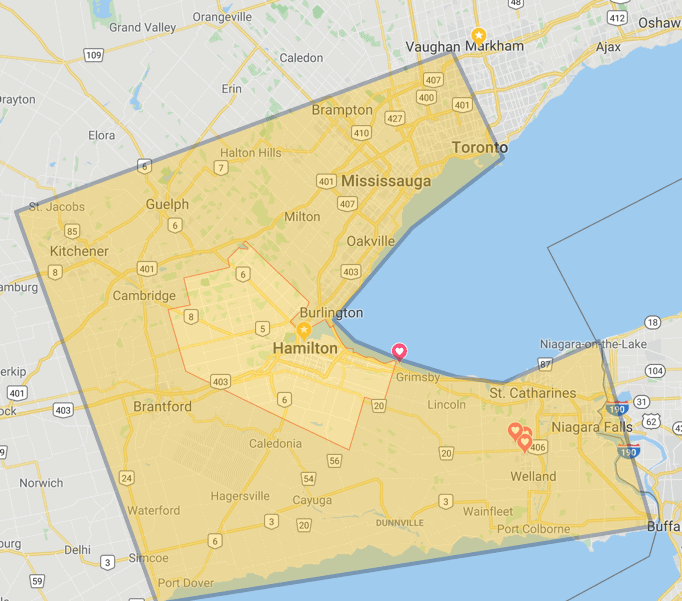 Our mobile dental care service area includes all addresses within one hour's drive of Hamilton Ontario. Including:
Contact us if you have question about whether we can provide service at your address.
Marisa Mannarino, RRDH, and her certified dental hygiene team take the stress out of dental care by bringing mobile dental care services to your home, facility or office. Our company specializes in:
In-home appointments
Children and teens
Special needs patients, including patients on the spectrum
Elder dental care
Group bookings at a location of your choice